Sunday, October 29, 2006



Here are some of the pictures I took...
there was also Join the Club, Jeans (I'm not sure with the spelling) I wasn't able to take pictures of those bands, I was saving my battery for Hale and of course, Bamboo!!! :)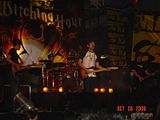 HALE...message me if you'd like Champ's solo pic ;-)


CALLALILY


and the most awaited band... *drum roll please*
Here's BAMBOO!!!!!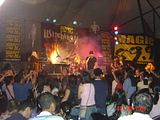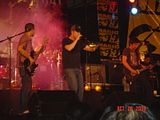 you can leave a message if you'd like a photo of Ira the guitarist ;-)
damn he's soo cute! :)
KC wasn't there when the concert started but was right on time to see Hale perform. Man! Hearing Champ sing live can make you melt! Especially when he sang the song "Waltz"; the last lyrics of the song was supposed to be "i hate you" but he changed it to "i love you"... Ooohhh!! *kilig* :) When it was Bamboo's turn the crowd went wild and very much alive! :) We were so lucky we were able to reserve some seats :)


Plus my mom was with us, though she's getting older, (you how old people respond to the new music today) she somehow appreciates the songs and the bands that I like, she even hums Bamboo's "Hallelujah" or just say that word all over again, sings Spongecola's (which she sometimes call spongebob) "Bitiw" right tune, wrong lyrics :) at least the effort of appreciating the song of today was there ;-) Thanks a lot mommy for that wonderful night! KC and I enjoyed every minute of it! :)

After the concert, KC and I strolled around eastwood at around pass 1am and talked about things, friends, anything that comes to our mind and of course, took some pictures :) Too bad we forgot to take pictures with the little girl we met at starbucks, she's so adorable :)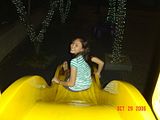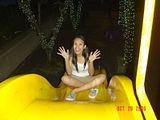 us, fooling around with the witch hehe


sharing stories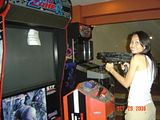 CB: Kace! under maintenance check-up yan ha?! :)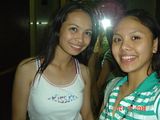 in the elevator. going up and home.



explored @ 11:32 PM
1 Comments | Links to this Story

Saturday, October 28, 2006
explored @ 5:05 PM
0 Comments | Links to this Story

Friday, October 27, 2006
explored @ 9:32 AM
0 Comments | Links to this Story

Saturday, October 21, 2006

As we reached PAWS, I was a bit surprised to see the place; it's kind of different of what I thought it was. The place is very solemn and really relaxing for the animals. By the way, anyone of you who would like to adopt a cat may go to their office. They also informed us that there will be a trick or treat costume party for the animals in Eastwood on Sunday.

And were off to the mall :) ... We went to Mega Mall for a change and looked for a nice costume for Sassy, and also a nice white dress for me (every girl must have at least ONE white dress in her closet and a nice pair of classic shoes *wink*)

We entered this certain store, I went crazy over the ribbons and beads, and it's all over the place! It would make lovely designs on a plain shirt too bad I don't have plain shirts at the moment, plus I still have lots of things to do, in short I presently don't have the time to design shirts. See, I like designing my own shirt, makes it more unique, though I just use them inside the house hee hee

I made that! :)

After strolling for quite sometime, we were surprised to see the time, my! It's already four in the afternoon, that's why we were starving! My mom and I each ate a burger with fries in Tropical Hut and shared pancit luglug with puto from Razon's. Very good chow! We're already full *big smile* back to shopping marathon.

We passed by the skating rink and saw my former coach, *sigh* I miss skating... I wondered if I continued my skating lessons, I might've mastered the backward crossovers and spinning by now.

When we felt that our feet are already complaining, we went back to the food court and rested. Since we already saw each and every store, we decided to switch venues and go to Tiendesitas. There we waited for the time to strike 9:30 pm to pick-up dad from golf and finally go home. Man! My feet ache... but it was worth it, we were able to buy Sassy's costume and even though I wasn't able to buy a white dress, mom got me a shirt instead ;-)



Before this day ends I want thank the Big Man up there for this wonderful day, and for the family who gave me everything, more than I need. Thank you. Good Night! *mwah*
explored @ 11:24 PM
2 Comments | Links to this Story

Saturday, October 14, 2006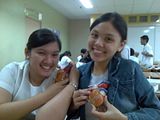 Budz and I got an "external" heart transplant :) haha


Budz and I studying the structures of the heart
We always find ways to make toxic days be more fun by fooling around yet being serious when needed ;-) My budz is my all around partner (except of course about the relationship thingy, just to make things clear) ;-) hehehe Glad to have you Budz as my friend...my bestfriend =)
explored @ 9:50 PM
0 Comments | Links to this Story

Tuesday, October 03, 2006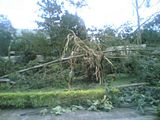 Here's the picture of the tree in our school..If I'm not mistaken it has been there for years.. and the storm was able to uproot it... tsk..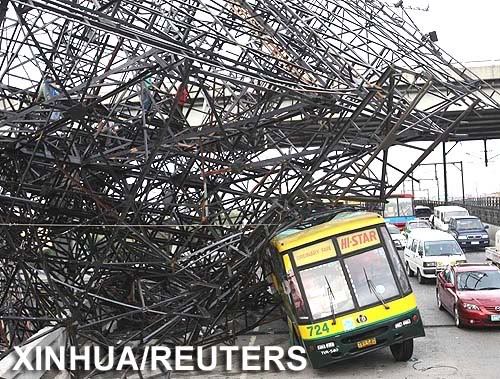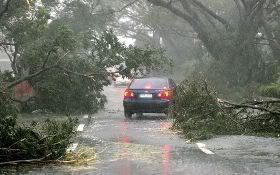 Last wednesday September 27, we received text messages saying there's no classes the next day, my roomates and I were wondering, what can be the reason that they cancelled the classes. Upon waking up the next day, we already knew why. That was the first time I've seen a typhoon that broke windows, uprooted trees, shook cars, it was really scary. Scary because you're miles away from your parents, no electricity (talk about dead batt; it's a good thing I was able to charge my phone before sleeping), you've got nothing to do but wait. Sure I like it when classes are cancelled, but also thinking about those people who were affected by the storm somehow makes me feel guilty. While us rejoicing, there are families who are weeping and thinking about what will happen to them after the calamity. That's why I am so thankful that God kept me and my family safe that nothing bad happend to us during that day. I also pray for the families who are greatly affected by the typhoon that they may find peace and hope and have more faith in God. "there's a rainbow always after the rain" so if it's a storm, the rainbow must be brighter and more colorful ;-) Always have faith :)
explored @ 4:44 PM
0 Comments | Links to this Story

Sunday, October 01, 2006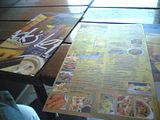 It's nice to wake up and you just have to go down to have your lunch :)
It's just me and my mom during lunch time since my dad has a party to attend to. We ate at Jack's Loft, the foods are good especially the salad! mmm.. yummy! We get to share with that very biiiig iced tea ;-) I forgot the other dish we ate, it's like an appetizer.. I asked my mom to try to copy it :) hehehe Oh well time flies fast, it's back to dorm for me.. c ya guys around!
explored @ 4:26 PM
0 Comments | Links to this Story


Candice: 19 year old kid that finally left neverland and decided to grow up * who simply wants to enjoy life's pleasures * wonders what it's like to be a princess * considers herself a mermaid in her past life * sings when no one's listening * picture addict * writter wanna be * certified bookworm * former ballerina * ex-figure skater * shoppaholic * atychiphobia & herpetophobia * uniquely coordinated * learning how to cook * dog lover * loves to hug and to be hugged * california maki eater * christmas is my favorite holiday * skirts are my fashion * eats cake when depress * amateur crepe maker * frustrated magician * treasures her friends * loves her family and will do anything for them * fears God the most.

~ BEDRIDDEN
~ DRAMA
~ DADDY THE TEACHER
~ WHERE WAS I?
~ CHRISTMAS PARTY
~ THE LATEST ON McDREAMY :)
~ BABIES
~ VACANT TIME
~ HOW MY DAY WENT
~ QUOTES FROM OUR FAVORITE CHARACTERS and MOVIES

~ April 2005
~ May 2005
~ June 2005
~ August 2005
~ September 2005
~ October 2005
~ November 2005
~ January 2006
~ March 2006
~ May 2006
~ June 2006
~ July 2006
~ August 2006
~ September 2006
~ October 2006
~ November 2006
~ December 2006