Sunday, November 27, 2005
whew! the wedding we attended lasted until 2am!! kakapagod din eventhough I did nothing but walk and talk =) hahaha well of course when we arrived home I asked my dad to take some pictures since he wasn't able to bring the camera...(sulitin ba ung make-up??) hahahaha.... =)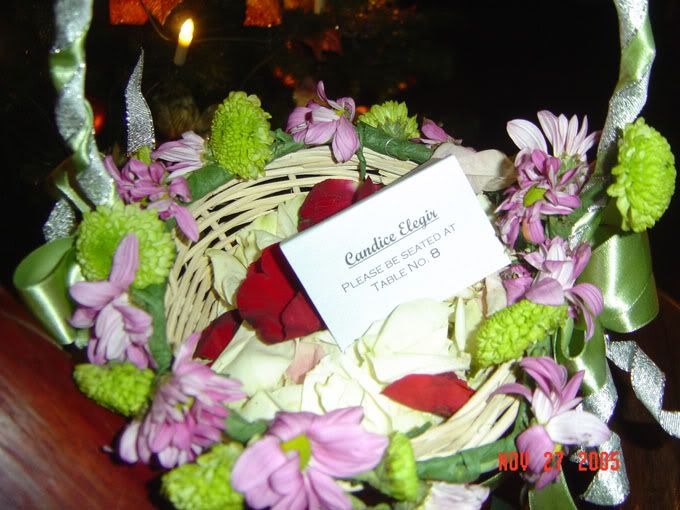 explored @ 5:00 AM
2 Comments | Links to this Story

Sunday, November 20, 2005



A Thousand Marbles
The older I get, the more I enjoy Saturday mornings. Perhaps it's the quiet solitude that comes with being the first to rise, or maybe it's the unbounded joy of not having to be at work. Either way, the first few hours of a Saturday morning are most enjoyable.

A few weeks ago, I was shuffling toward the garage with a steaming cup of coffee in one hand and what began as a typical Saturday morning, turned into one of those lessons that life seems to hand you from time to time. Let me tell you about it.

I turned on the old am band radio that was once my Grandfather's and tried to see if it would pick anything I came across an older sounding chap, with a tremendous signal and a golden voice. You know the kind, he sounded like he should be in the broadcasting business. He was telling whoever he was talking with something about "a thousand marbles".

I was intrigued and stopped to listen to what he had to say. "Well, Tom, it sure sounds like you're busy with your job. I'm sure they pay you well but it's a shame you have to be away from home and your family so much. Hard to believe a young fellow should have to work sixty or seventy hours a week to make ends meet. Too bad you missed your daughter's dance recital." He continued, "let me tell you something Tom, something that has helped me keep a good perspective on my own priorities." And that's when he began to explain his theory of a thousand marbles."

"You see, I sat down one day and did a little arithmetic. The average person lives about seventy-five years. I know, some live more and some live less, but on average, folks live about seventy-five years." "Now then, I multiplied 75 times 52 and I came up with 3900 which is the number of Saturdays that the average person has in their entire lifetime."

"Now stick with me Tom, I'm getting to the important part. It took me until I was fifty-five years old to think about all this in any detail", he went on, "and by that time I had lived through over twenty-eight hundred Saturdays. I got to thinking that if I lived to be seventy-five, I only had about a thousand of them left to enjoy. So I went to a toy store and bought every single marble they had. I ended up having to visit three toy stores to round-up 1000 marbles. I took them home and put them inside of a large, clear plastic container right here in the kitchen. Every Saturday since then, I have taken one marble out and thrown it away. I found that by watching the marbles diminish, I focused more on the really important things in life. There is nothing like watching your time here on this earth run out to help get your priorities straight."

"Now let me tell you one last thing before I sign-off with you and take my lovely wife out for breakfast. This morning, I took the very last marble out of the container. I figure if I make it until next Saturday then I have been given a little extra time. And the one thing we can all use is a little more time."

"It was nice to meet you Tom, I hope you spend more time with your family, and I hope to meet you again here on the band. 73 Old Man, this is K9NZQ, clear and going QRT, good morning!" You could have heard a pin drop on the band when this fellow signed off. I guess he gave us all a lot to think about. I had planned to work on the yard that morning, and then I was going to clean the garage. Instead, I went upstairs and woke my wife up with a kiss. "C'mon honey, I'm taking you and the kids to breakfast." "What brought this on?" she asked with a smile. "Oh, nothing special, it's just been a long time since we spent a Saturday together with the kids. Hey, can we stop at a toy store while we're out? I need to buy some marbles."

May love litter your life with blessings.

To realize the value of ONE MONTH, ask a mother who gave birth to a premature baby.
To realize the value of ONE WEEK, ask the editor of a weekly newspaper.
To realize the value of ONE HOUR, ask the lovers who are waiting to meet.
To realize the value of ONE MINUTE, ask a person who missed the train.
To realize the value of ONE SECOND, ask a person who just avoided an accident.
To realize the value of ONE MILLISECOND, ask the person who won a silver medal in the Olympics.
Treasure every moment that you have!

Yesterday is history.
Tomorrow is mystery.
Today is a gift. That's why it's called the present!


explored @ 12:10 PM
0 Comments | Links to this Story

Monday, November 07, 2005
It's a new semester and a new building! We are now having our classes in the Wang Building where it's just a few steps away from our dorm, actually it's right in front of it. =) But here's the catch, PT's are located at the 5th floor!! meaning we have to climb the stairs all the way up to the 5th floor! (120 steps! imagine pag akyat mo, lawit na dila mo! lolz) It's because that damn elevator is not functioning..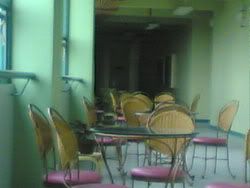 Starbucks?.. Nope! It's the CPT hallway.. SOSYAL!! =)


picture taking muna... =) hahahahahaha

explored @ 7:36 PM
0 Comments | Links to this Story

Sunday, November 06, 2005
TRESURES (it's really w/o an A)
I had a great time with them! They spent the night here and had a lot of catching-ups.. We were so glad to see each other again, after how many months!! Whew! We really are busy nowadays...Imagine how time flies, we've been friends for about 6 years already and I know that'll never gonna change.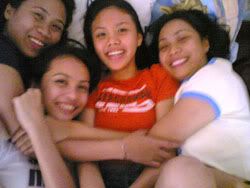 By sunset I remembered I was the one keeping our barkada scrapbook so I showed them what I already finished and we all agreed to add more pages..We were so busy cutting and pasting the pictures that we even forgot eating dinner! haha.. good thing my mom reminded us that it's already time for supper.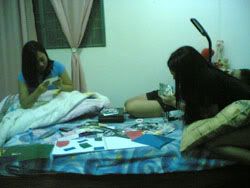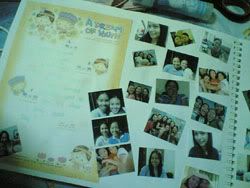 after the scrapbook, our sleepover won't be completed without watching movies... I dunno, it's like sleepovers=movie marathon =)
Time really run so fast when your having fun... Oh well it's time to bid our goodbyes thinking when will we see each other again...
OOhh happy feet!! Notice we have different kinds of trips? haha We even went to McDonald's for our dinner wearing pajamas! hahaha talk about humiliation! hahaha.. (that's okay, people there won't remember us..I hope)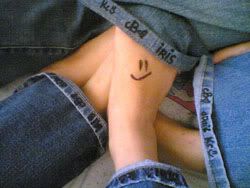 I really had a great time, and spending my day, I mean days with them is really worthwhile and should be treasured.. =)
miss you BitcheZz hope to see you soon!!
explored @ 7:17 PM
0 Comments | Links to this Story

Friday, November 04, 2005
things I wanted to do:

1. learn how to play soccer
2. try surfing (small waves will do)
3. have a hair cut
4. clean my very messy room
5. just sit and eat all day
6. have a new puppy..(which will be super impossible, dad won't approve of it..) =(
7. see my highschool friends (sleepover!!!)
8. see my college friend (without thinking of school things)
9. sleep the whole day

explored @ 4:24 PM
0 Comments | Links to this Story



noon: pinapatulog ka kahit hindi ka inaantok
ngayon: ginigising ka kahit inaantok ka pa!

noon: tinuruan ka maglakad
ngayon: nagagalit tuwing may lakad ka

condradicting ha! =) lolz


explored @ 4:16 PM
0 Comments | Links to this Story

IM SO LUCKY TO HAVE A BUDDY LIKE YOU TOO =)

wow ! touch nmn ako sa blog entry ng budz ko ! =) hahaha I knew you'll miss me ! hahahahaha grabe ! miss ko na budz ko,,2weeks din kami ndi nagkta,, kakapanipago,like she said, paggcng ko sa umaga xa nakkta ko, pagmatutulog din ako, xa ung huling taong mkkta,, we've shared a lot of things already, and WE HAVE SO MUCH IN COMMON! hahaha =) within this 2 weeks, pag gumigcng ako,prang my iba, ang ndi lng nagiba ung panghahawa sakin ni budz ng ka-lousy-han =) hahahaha everytime xe before going to class, after taking a bath, babalik yan sa bed tpos pipikit,, sabay sabi "tnatamad ako pumasok" same goes with me..haay kaw ba namn umupo ng ilang hours,,listening for ONE subject only! kakabored din yun noh! plus nakakagutom.. if some of you guys don't know,trivia lng,, lagi ako gutom.. hahaha haay budz ilang tulog nalang, I'll be the first and last person you'll see when you wake up and fall asleep ulit =) hahahaha preho nnman kami puyat lagi..Lam nyo ba yan c budz, super sipag nyan ! worksheet due on january halos matatapos na nya ngyn..=) hehehe hhaaayy,, I've realize, ang tagal ko na pala friend c budz, and I'm soo lucky to have her as a friend,,not to mention she always makes me smile,lalo na if I have problems..to the rescue agad yan! sobrang natouch pa ko nun,she texted me if I'm doing ok..kea pag friend nyo buddy ko, super lucky nyo at nameet nyo ang ganong tao..kea budz, stay the same..buddy forever ah =) luvyah budz !!


explored @ 4:00 AM
1 Comments | Links to this Story

Tuesday, November 01, 2005
mmmm sarap tlaga n2ng tart !! yummy !!
sarap ng suman and milo ! haha try nyo.. (mag advertise b?)
feeling ko new year na ! hahahahaha
ganto xe gnagawa namin every new year, para lng kami nagmmidnight snack ;-) bonding kami ni mommy, c daddy nangulo lng samin while eating hehehe
explored @ 11:23 PM
0 Comments | Links to this Story


Candice: 19 year old kid that finally left neverland and decided to grow up * who simply wants to enjoy life's pleasures * wonders what it's like to be a princess * considers herself a mermaid in her past life * sings when no one's listening * picture addict * writter wanna be * certified bookworm * former ballerina * ex-figure skater * shoppaholic * atychiphobia & herpetophobia * uniquely coordinated * learning how to cook * dog lover * loves to hug and to be hugged * california maki eater * christmas is my favorite holiday * skirts are my fashion * eats cake when depress * amateur crepe maker * frustrated magician * treasures her friends * loves her family and will do anything for them * fears God the most.

~ BEDRIDDEN
~ DRAMA
~ DADDY THE TEACHER
~ WHERE WAS I?
~ CHRISTMAS PARTY
~ THE LATEST ON McDREAMY :)
~ BABIES
~ VACANT TIME
~ HOW MY DAY WENT
~ QUOTES FROM OUR FAVORITE CHARACTERS and MOVIES

~ April 2005
~ May 2005
~ June 2005
~ August 2005
~ September 2005
~ October 2005
~ November 2005
~ January 2006
~ March 2006
~ May 2006
~ June 2006
~ July 2006
~ August 2006
~ September 2006
~ October 2006
~ November 2006
~ December 2006