Monday, May 30, 2005
Yippee! I'm officially going to third year Ü I already enrolled myself and got my books – tons of books, take note 13 books! Whew! I saw my friends whom I wasn't able to see for like, 2 months. We did a lot of catching ups ÜÜÜ And I was surprised to see my former classmate, Leo, back in grade school here in La Salle and I think same with him although he already knew I'm taking up PT. I asked him what's his course and when he answered medicine, I was like whoa, medicine! Apparently I'm still thinking of continuing it to medicine, I mean it's like studying forever…Ü (or maybe I'm just a lazy person *wink*)

Before, I'm quite excited about going to school, now start of classes are fast approaching and heard from an incoming forth year about certain subjects, there's a sudden change of mind Ü maybe going to school isn't really exciting especially when you start tackling your major subjects Ü hehe (lazy kid!)
c ya'll soon! Ciao!
explored @ 5:00 PM
0 Comments | Links to this Story

Sunday, May 29, 2005
hey I'm back ! My mom had a terrible accident, she fell from a ladder around 5 ft + high, and was hospitalized for 10 days, that explains my absence here in the blogging world ... Thank God she's quite ok.. Thank you people for praying for her fast recovery. Nwei, nothing really important happend to me that I should share, so I think thats it for now. I'm a bit lazy right now ;-) c yah !
explored @ 8:51 PM
0 Comments | Links to this Story

Sunday, May 08, 2005

Time runs so fast ! I'm gonna miss the good ol' days … the first two years of my college was a blast! It's really nice for our section to be bonded.

Ang sarap ng feeling kung lahat happy

Ü

I'll

miss

the sleepovers, the tambays, session, "group study", kopyahan (lalo na sa p6) group works, class project, starbucks haha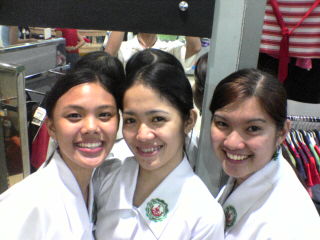 my 2 ates' ( they're the ones who gives me advice whenever i needed it)



"chicks" as we call ourselves hehe LEFT TO RIGHT: hotchick, ladychick, coolchick Ü





they're like sisters to me Ü



missing swimming


my older sisters Ü


my picture buddies Ü

paul and ate krizzy
(pic addict) Ü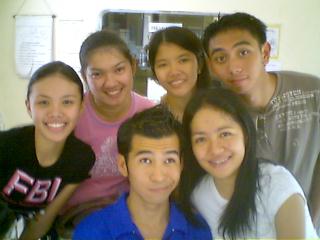 community project for reed Ü


love ko 'to


play for health eco


1st row: carlo,jeff,lei
2nd:lani,lashing,me,atehannah,kristel,joyce
3rd:atekrizzy,acejete,tetay,charlie



i really enjoy their company


clockwise: angela,lani,tel,acejete,fakner,bujay,kuyajerome,atekrizzy,ME,tetay Ü



NSTP


me,kuyajerom,screw,candypot,ategelatin


explored @ 12:37 PM
0 Comments | Links to this Story

VERY

wrong which I know I

did not

. Thank God for my patience, it's still here, thought I lost it ! hahaha But when he's on a good mood ! It's really fun hanging out with him Ü *wink*



me and my dad



Anyways, my mom and I went swimming again, ooohh I'm getting dark ! Ü

After 3 days of arriving here in manila,I was surprised not ONE lizard are at my sight! (I don't hate it or somthing, I just don't like to be near to it...

VERY NEAR

) So I thought I wont be seeing those creatures ever ! ever again ! haha especially here in my room ! Apparently, I was wrong coz just this morning I saw

ONE BIG LIZARD

! hahahahaha Well, at least it's far from me! Ü

I'm thinking of baking some brownies later or clean my room, it is truly a disaster! Or watch a movie and the list goes on and on and on...

There so much to do, soo little time ! Ü

But hey ! It's vacation I should lay back and relax Ü Do nothing ! hahahaha


explored @ 11:08 AM
0 Comments | Links to this Story



Oh btw it's already May 8, HAPPY MOTHER'S DAY to the mothers' out there Ü


explored @ 3:37 AM
0 Comments | Links to this Story

Saturday, May 07, 2005
Your Seduction Style: The Natural





You don't really try to seduce people... it just seems to happen.
Fun loving and free spirited, you bring out the inner child in people.
You are spontaneous, sincere, and unpretentious - a hard combo to find!
People drop their guard around you, and find themselves falling fast.
explored @ 6:30 PM
0 Comments | Links to this Story


ate krizzy and me

explored @ 9:11 AM
0 Comments | Links to this Story

Thursday, May 05, 2005


dami pa pix next time ko na upload ;-)



colleen and me

explored @ 10:25 PM
0 Comments | Links to this Story

Wednesday, May 04, 2005


Now back to reality, vacation's over and school starts in less than a month... And June is already approaching which means I'll be a year older! Boi am I getting old! haha =)

Here are some of my wish list for my birthday:


a new puppy ONE hand, a chihuahua maybe or a Yorkshire Terrier> "a portable dog" I guess =)

learn how to surf before the school starts
an ipod

go figure skating

again

go to the beach and chill with friends

WITHOUT

any adult supervision hee hee hee

a room make-over

a non-pro driver's license
eat without gaining
ace the exams without studying! hahahaha =)
I think that's all for now =)

Oh! And one more thing a genie that can grant my wish boundlessly *wink*

*the end*


explored @ 6:21 AM
0 Comments | Links to this Story

Tuesday, May 03, 2005
You Are 14 Years Old





14






Under 12: You are a kid at heart. You still have an optimistic life view - and you look at the world with awe.

13-19: You are a teenager at heart. You question authority and are still trying to find your place in this world.

20-29: You are a twentysomething at heart. You feel excited about what's to come... love, work, and new experiences.

30-39: You are a thirtysomething at heart. You've had a taste of success and true love, but you want more!

40+: You are a mature adult. You've been through most of the ups and downs of life already. Now you get to sit back and relax.

explored @ 1:49 AM
0 Comments | Links to this Story


Candice: 19 year old kid that finally left neverland and decided to grow up * who simply wants to enjoy life's pleasures * wonders what it's like to be a princess * considers herself a mermaid in her past life * sings when no one's listening * picture addict * writter wanna be * certified bookworm * former ballerina * ex-figure skater * shoppaholic * atychiphobia & herpetophobia * uniquely coordinated * learning how to cook * dog lover * loves to hug and to be hugged * california maki eater * christmas is my favorite holiday * skirts are my fashion * eats cake when depress * amateur crepe maker * frustrated magician * treasures her friends * loves her family and will do anything for them * fears God the most.

~ BEDRIDDEN
~ DRAMA
~ DADDY THE TEACHER
~ WHERE WAS I?
~ CHRISTMAS PARTY
~ THE LATEST ON McDREAMY :)
~ BABIES
~ VACANT TIME
~ HOW MY DAY WENT
~ QUOTES FROM OUR FAVORITE CHARACTERS and MOVIES

~ April 2005
~ May 2005
~ June 2005
~ August 2005
~ September 2005
~ October 2005
~ November 2005
~ January 2006
~ March 2006
~ May 2006
~ June 2006
~ July 2006
~ August 2006
~ September 2006
~ October 2006
~ November 2006
~ December 2006